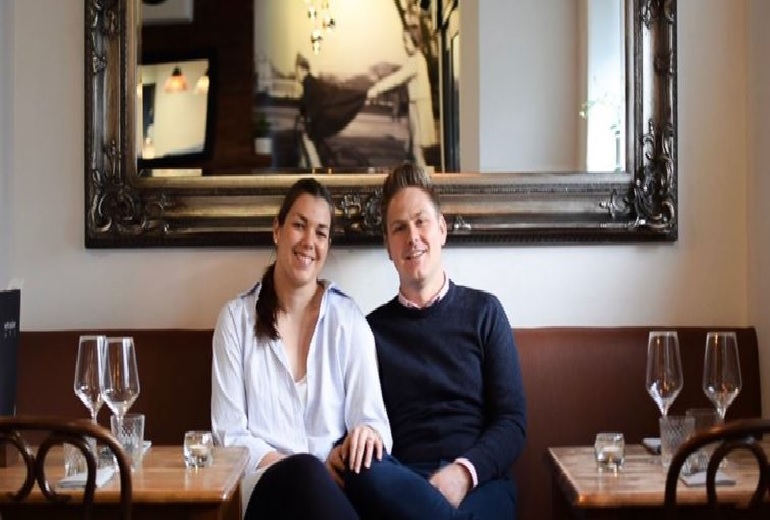 Petit Delight, located in Cleethorpes' popular Sea View Street, has been a much-loved brasserie and café in the resort for many years. In June 2019, it was taken over by James and Elena Robinson, who have firm ideas for the direction of the business and future of the venue.
Before buying the business, James was the Head Chef at Petit Delight and fully understands not only the ins-and-outs of the business, but the resort's hospitality sector too. He had a vision for Petit Delight and as a new business owner, wanted support in moving forward, helping the business reach its full potential.
Kevin Franklin, Growth Hub Business Advisor at E-Factor Business, began working with James and the team, starting with an extensive feedback and planning session with all staff members. During the day-long workshop, employees were asked to share their opinions about different areas of the business to help James and Elena put practical steps in place to bring about significant changes and improvements to the day to day operations, as well as guide future developments and grow their vision.
From this, Kevin and James were able to work together on business plans for Petit Delight, assisting with forecasting and cash flow, marketing opportunities, recruitment and job creation. The goal is to ensure the running of Petit Delight remains sustainable for the long-term.
In October 2019, the Brasserie of Petit Delight underwent a significant refurbishment, complete with new menus and tableware to reflect the business' vision. Plans are in place for the transformation of the first-floor function rooms and the introduction of a brand-new bar area.
Already, James has employed four new team members with more jobs being created in 2020. The staff will also undergo up-skilling and professional development as the business works with a local training provider.
After being referred by Kevin, James will be having 1-2-1 consultations with E-Factor's specialist business advisor to the food sector under the GAIN project, whilst still having support and guidance from Kevin and the Humber Business Growth Hub and its #GrowMySME Programme.
James said: "Big changes were needed when we bought the business. What Kevin has helped us to do is find a way to speak openly about why we're doing what we're doing and what we're doing it for. The feedback session was a great day, it brought out a lot of issues and ideas to consider, it felt like we were starting fresh from that day. We needed that time to stand still, be quiet and calm so we could focus on what we want to achieve.
"Kevin has been like a sounding board for our ideas for the website and marketing, contracts and hiring, creating a framework of what we can action right now and what we are planning for in the future."
Kevin, Growth Hub Business Advisor, added: "It has been a pleasure working with James and Elena as part of the Growth Hub's #GrowMySME Programme, to help develop their vision for Petit Delight. Already having a strong business presence in the town, the new owners were keen to develop the business and 'put their stamp' on future developments with some fantastic ideas for new menus, staff training and development and fully utilising this wonderful, flexible venue.
"The workshop with staff was a very positive session, with staff fully engaged in providing feedback to some key questions relating to the current operation and their ideas and suggestions for moving the business forward. In fact, I was really surprised with their willingness to engage in this process and some of the really positive suggestions which will help James and Elena crystallise their plans for the future. Obviously, this is the start of their journey and I we will be meeting regularly as the business develops."
"Kevin has been like a sounding board for our ideas for the website and marketing, contracts and hiring, creating a framework of what we can action right now and what we are planning for in the future."
James and Elena Robinson