Posted on 19th January 2022
Category:
News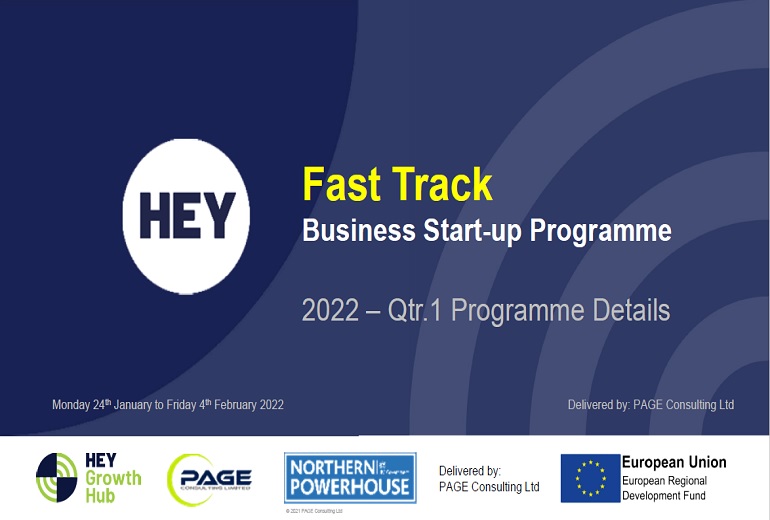 Fast Track your way to Business Success
Have you an idea for a business that you would love to run someday
or just want to become your own boss, but are not sure where to
start. Then this programme is for you.
With all of the support available from the HEY Start-Ups team, there
is no time like the present to discover more about what's involved in
starting and running a business and to make your start-up dream a
reality in 2022.
Programme Content:
Participants will explore the key steps involved in starting and
growing a new business in 10 insightful, practical and fun online
workshops, each of 3 hours duration.
The programme will also introduce attendees to other 'like-minded'
people to share experiences and build successful business networks

Each workshop focuses on a different key skill for any aspiring
entrepreneur with activities and exercises that will help you to fast
track your business set-up, launch and growth.
The programme runs over a two week period starting on Monday 24th
January and runs through to Friday 4th February 2022.

Day 1 – Wats Involved
Day 2 – Researching the Market
Day 3 – Sales and Marketing
Day 4 – Build an Online Shop Window
Day 5 – Making the Right Impression
Day 6 – Planning for Success
Day 7 – Managing Money
Day 8 – Registering and Trading
Day 9 – Building Relationships
Day 10- Business Simulation

Who Should Attend:
Anyone interested in starting and growing a business in the region.
The programme is completely free to Hull & East Yorkshire (HEY)
residents wanting to start up their first business or those who have
a business based in the HEY region that has been trading for less
than 12 months.
Don't miss out, places are limited. Priority will be given to those
who can commit to attending every workshop in the programme.
HEY Fast Track Business Start-up Programme
Presenters:
The Fast Track programme is delivered by PAGE Consulting Ltd.
Attendees will hear from inspirational business people who have
successfully launched and grown a business in the Hull & East
Yorkshire (HEY) region and who know the business start-up
journey very well. They are experts in their own areas and focus
on the 'stuff that really matters' in an interactive, fun and informative manner
Workshop Dates:

1 What's involved in Starting a Business Mon 24th January
2 Researching the Market Tues 25th January
3 Sales & Marketing for Early Start Businesses Wed 26th January
4 Building an Online 'Shop Window' Thurs 27th January
5 Making the Right Impression Fri 28th January
6 Planning for Business Success Mon 31st January
7 Managing the Money Tues 1st February
8 Registration & Trading Wed 2nd February
9 Building Relationships for Sustainable Growth Thurs 3rd February
10 Business Simulation Fri 4th February

Click on the link to Book Your Place:
https://www.eventbrite.co.uk/e/hey-fast-track-business-start-up-programme-tickets-225127882557
What Attendees had to Say:
"The Fast Track programme was extremely useful."
"As somebody with very little experience of starting a business, every session was a huge help."
"The programme took me through all of the basics but also gave me time to consider how this would work in my own setting moving forward."
"All of the speakers were very knowledgeable and were able to give their own insights and experiences as well as offering support and advice to help me to develop my own ideas."
"It has given me lots of ideas, confidence and passion to succeed in my new venture".
Ways to Book Your Place:
You can visit the HEY Growth Hub's website at:
https://heygrowthhub.com/hey-start-ups-event-schedule/
Alternatively you can visit the HEY website dedicated to Start-ups when it opens in 2022 at:
https://www.heystartups.co.uk/
Or simply book directly using the Eventbrite link below:
https://www.eventbrite.co.uk/e/225127882557