Posted on 4th October 2022
Category:
News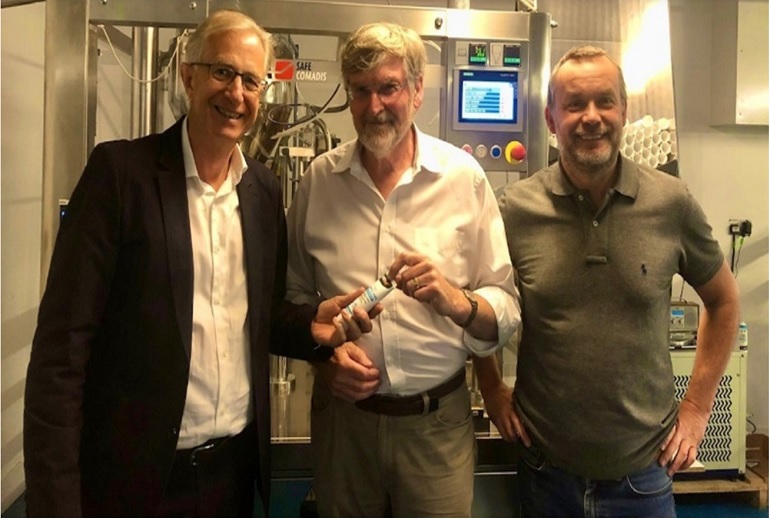 From left to right; Stephen Savage (Deputy Chair of the HEY LEP Investment Panel), Ian Moulds (Managing Director) and Andrew Tindall (Operations Manager).
The Hull and East Yorkshire Local Enterprise Partnership are now welcoming grant applications from Local SMEs as part of the newly launched Growing Places Fund.
The Growing Places Programme Fund is a £3.25m business investment scheme aimed at providing capital grants and loans to SME businesses in Hull and East Yorkshire to support and incentivise business growth, investment, and job creation.
One of the first applicants, Bio-tech Solutions Limited, recently secured a £13.4k investment from the scheme to invest in a new sachet machine.
The company are a small manufacturer established in 2002, based in Driffield, East Yorkshire. They specialise in contract services for both human use products and for pet care products.
Initially the company worked mainly in the production of pet-care products, some of which were licensed flea and tick control products. Over time, market requirements changed and they expanded into other markets.
Ian Moulds, Managing Director, said: "We noticed that since Brexit we were receiving enquires from businesses both within the UK and the rest of the world who were looking to have their products manufactured and packaged in the UK. We recognised that this was an opportunity for the company to expand."
Andrew Tindall, Operations Manager, said: "In response to the high volume of enquiries we were receiving, we made the decision to invest in additional equipment. This capital investment has allowed us to offer a more diverse portfolio of services and turn enquiries into orders. The funding certainly helped us in our decision to invest in the idea and purchase a sachet filling machine because it became obvious that there was a need for this service.
"We were very grateful for the support provided by the Growth Hub Advisor at East Riding of Yorkshire Council and the funding awarded from the HEY LEP's Growing Places Fund Programme."
Stephen Savage, Deputy Chair of the HEY LEP Investment Panel, said: "I was delighted to recently visit Bio-Tech at their offices and manufacturing premises. Bio-Tech are exactly the type of company and business activity the Growing Places Fund is looking to support. I encourage other businesses with innovative ideas looking to grow their business to apply for a grant."
If your business is within the Hull and East Riding Region and you want to find out more about what capital funding is available to help your business grow, please visit https://heylep.com/our-funding-and-projects/funding/ to learn more.