Posted on 9th January 2023
Category:
News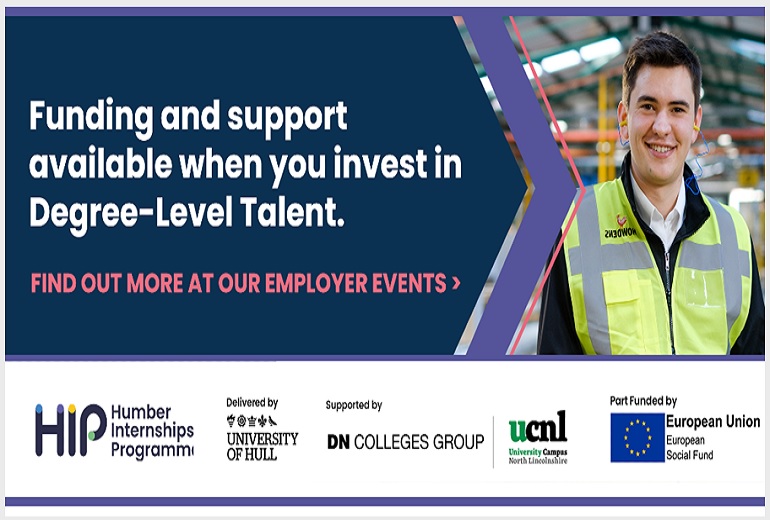 Do you need extra resource and skills to support your plans in 2023?
Funding and support is available towards bringing a skilled graduate into your business for 12 weeks.Get ahead and book onto one of our upcoming events to find out more
Why should you attend? Find out how you can:
Trial skilled graduates for permanent hire
Gain short-term resource for projects or heavy workloads
Access sought-after skills
Save on recruitment costs
Provide opportunities for the next generation
Who should attend?
If your business is looking to source talent now or in the near future we encourage you to join us. Hiring an intern could be a great solution.
HIP can support small and medium sized businesses across the East Riding, Hull, North and North East Lincolnshire areas.
We look forward to seeing you.
About the Humber Internships Programme (HIP)
HIP is quite simply about matching the skills needs of local, Humber businesses with talented students and graduates through a 12 week internship.
Whether you need extra resource or skills to help jump-start a project or a route to permanent graduate hire, HIP can help.
What employers say about us:
"The Humber Internships Programme allowed us to test the water and look at ways we can bring graduate-level ability to our business.   With the support of HIP, the process has been very positive and benefited the company enormously."

Helen Johnson, Product Manager, Creme d'Or

Humber Internship Programme
humberinternships.co.uk

Email Address hip@hull.ac.uk