Posted on 14th November 2023
Category:
News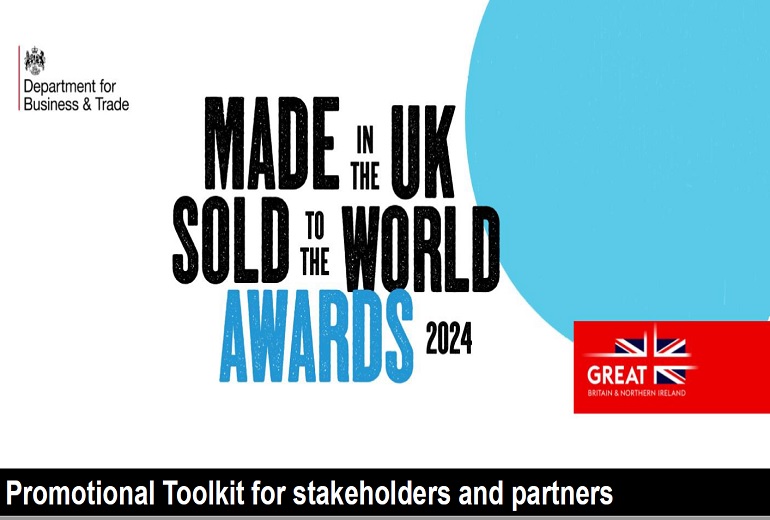 Organised by the Department for Business and Trade, theMade in the UK, Sold to the World Awards recognise and celebrate the success of UK SMEs trading internationally from a wide range of sectors.
•
We want to inspire and encourage UK businesses to pursue global opportunities. The 'Made in the UK, Sold to the World' campaign provides us with a platform to acknowledge and celebrate exporters from across the country and tell their stories, with the aim of instilling an exporting culture.
•
As part of this, DBT runs an annual awards programme the Made in the UK, Sold to the World Awards, which recognise and celebrate UK businesses seeing international success.
The awards programme:
•
Helps to increase the focus on exporting amongst businesses.
•
Encourages more businesses to export by showing that everyday businesses of all sizes and industries are succeeding internationally and overcoming barriers.
•
Encourages 'hand-raising', resulting in compelling export success stories
being shared by businesses and DBT.
2024 Awards Timeline
10 Nov:
Awards open for entries
June:
Parliamentary reception to celebrate winners
14 Jan:
Awards entries close
9 April:
Announcement of winners
Shortlisting & judging panels take place
10 Nov –14 Jan: Awards promotion period
Made in the UK, Sold to the World Award Categories
Agriculture, food & Drink Consultancy & Professional Services Creative Industries Education & EdTech
Financial Services & FinTech Healthcare Infrastructure & Engineering Low Carbon Energy
Advanced Manufacturing & Construction Retail & Consumer Goods
Key information
Website for entries: https://www.great.gov.uk/campaign-site/2024-made-in-the-uk-awards/ You can find all entry Ts&Cs here.
•
Each category will be judged by a panel comprised of two DBT sector leads and independent panellist Marco Forgione, Director General at the Institute of Export & International Trade (IoE&IT).
•
Winners will receive a certificate, trophy and digital badge that they can display on their website along with other credentials, as well as promotional activity organised by DBT. They will be invited to attend a Parliamentary Reception in June.
•
You cannot apply on behalf of another business, but we encourage you to share with any relevant businesses in your network.
•
The awards are free to enter.
•
Businesses entering should be an SME, defined as 250 employees or less.
•
Businesses should only submit one entry for the most relevant category, and they will not be eligible to win multiple categories.
•
Export stories submitted should relate to the calendar year January 2023 – December 2023, where possible
Get involved!
The awards launch on Friday 10 November 2023 and we value your support in promoting the awards to SMEs across the UK, to ensure that we get quality submissions and that we can recognise and celebrate truly fantastic exporting stories.
The next slides explain how we can worktogether.
Post about our Awards on social media
The hashtag #MadeInTheUKAwards will be used for all Made in the UK, Sold to the World Awards promotion.
Our social channels will spotlight all entry details at launch, send reminders in the lead-up to the entries closing, and will then celebrate the winners once they are selected.
You can support us by:
•
Tagging DBT accounts with any Award promotion activity you're undertaking
•
Sharing Made in the UK, Sold to the World Award posts from DBT channels.
•
Promoting the Awards in your newsletters or other communications you might have with members.
Tag us!
Twitter – @biztradegovuk
LinkedIn – Department for Business and Trade
Instagram – @uktrade
Facebook – @BizTradegovuk
Example copy for promotional activity
Example Social Copy:
Are you a UK SME with global trading success? [@ tag DBT]'s Made in the UK, Sold to the World Awards 2024 are now open for entries to celebrate and recognise your achievements.
Enter one of ten industry categories to tell your story. Entry is free and open until 14 January 2024.
To find out more and enter visithttps://www.great.gov.uk/campaign-site/2024-made-in-the-uk-awards/
Good luck! #MadeInTheUKAwards
Example Newsletter Bulletin Copy:
The Department for Business and Trade has opened its Made in the UK, Sold to the World Awards 2024 for entries, to recognise the global trading success of small businesses from across the UK. There are ten industry categories to choose from and entries close on the 14th January 2024. For more information and to submit your entry visit the website. Good luck!
Twitter – @biztradegovuk
LinkedIn – Department for Business and Trade
Instagram – @uktrade
Facebook – @BizTradegovuk
Use our social media assets
Please like and share our live posts to help raise awareness of the awards to your network of members:
Launch Announcement:
•
LinkedIn post: Link here.
•
Instagram post: Link here.
•
Facebook post: Link here.
Please share these postsany time from now until the awards close on 14 January 2024
Email signatures and email templates
Should you wish to promote the Made in the UK, Sold to the World Awards via email, we have an email signature available that we would love you to use.
This can be downloaded here.
Please ensure these are hyperlinked through to:https://www.great.gov.uk/campaign-site/2024-made-in-the-uk-awards/
Contact Us
For more information around promoting the Made in the UK, Sold to the World Awards, please speak to your External Affairs contact, or contact UKMarketing@businessandtrade.gov.uk