Cyberspace lies at the heart of modern society; it impacts our personal lives, our businesses and our essential services. E-crime, or cyber crime, whether relating to theft, hacking or denial of service to vital systems, has become a fact of life. Businesses are constantly being targeted and exploited by professional criminals. The potential loss from fraud and money-laundering runs into billions of pounds each year. See the latest cyber alerts from the  Business Resilience Forum.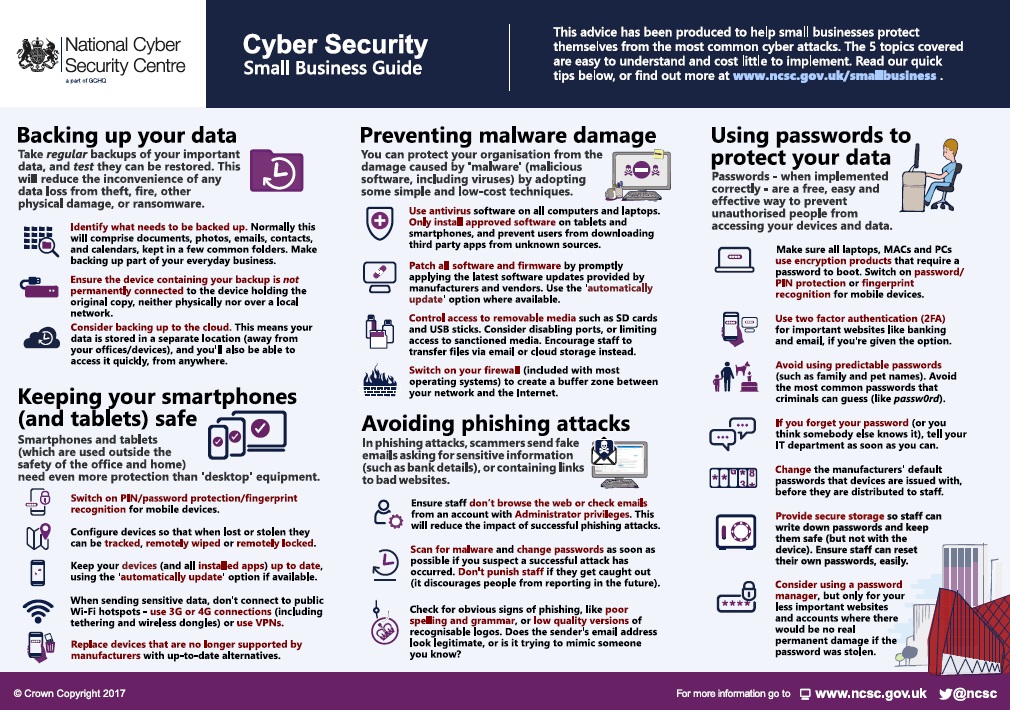 The governments National Cyber Security Centre have created guidance for small businesses to protect their business from cyber crime. Visit their web site https://www.ncsc.gov.uk/smallbusiness
Protect Your Business
The National Cyber Security Centre is a cross-government campaign, funded by the National Cyber Security Programme, and delivered in partnership with the private and voluntary sectors. The campaign is led by the Home Office, working closely with the Department for Business, Innovation and Skills and the Cabinet Office. The National Cyber Security Centre offers a range of advice to businesses to help protect you from attack. The advice is free and will help protect your business with simple and straight forward advice. The site also offers an extensive range of free downloads and tools for protecting your business from cyber attack as well educational downloads to ensure your staff enact best practices at work. You will also be directed to other useful web sites that will help you achieve the highest level of cyber security.
Cyber Essential Scheme
Cyber Essentials is a new Government-backed and industry supported scheme to guide businesses in protecting themselves against cyber threats. Any organisation can use the guidance to implement essential security controls. The Cyber Essentials scheme provides businesses small and large with clarity on good basic cyber security practice. By focusing on basic cyber hygiene, your company will be better protected from the most common cyber threats. Cyber Essentials is for all organisations, of all sizes, and in all sectors – we encourage all to adopt the requirements as appropriate to their business. This is not limited to companies in the private sector, but is also applicable to universities, charities, and public sector organisations. Cyber Essentials is mandatory for central government contracts advertised after 1 October 2014 which involve handling personal information and providing certain ICT products and services The Cyber Essentials scheme has been developed as part of the UK's National Cyber Security Programme and in close consultation with industry. The Cyber Essentials scheme has been developed as part of the UK's National Cyber Security Programme and in close consultation with industry. Visit the Cyber Essentials Web site to get more information.
Local Business Resilience Forum
Bringing together business, law enforcement and academics, the Local Business Resilience Forum (HBRF) will ensure that businesses can access the most up to date expertise and information to protect themselves from security threats. It combines the expertise of academia, the police and private sector, building a network for advice on cyber threats and organisational security issues. The Vision of the HBRF is to create a secure local region for business and other organisations to flourish in, and make the area one of the safest in the UK to do business in cyber space. For more details visit the HBRF website.