Organiser: Hull and East Yorkshire Growth Hub
Event Type: Workshop
Description: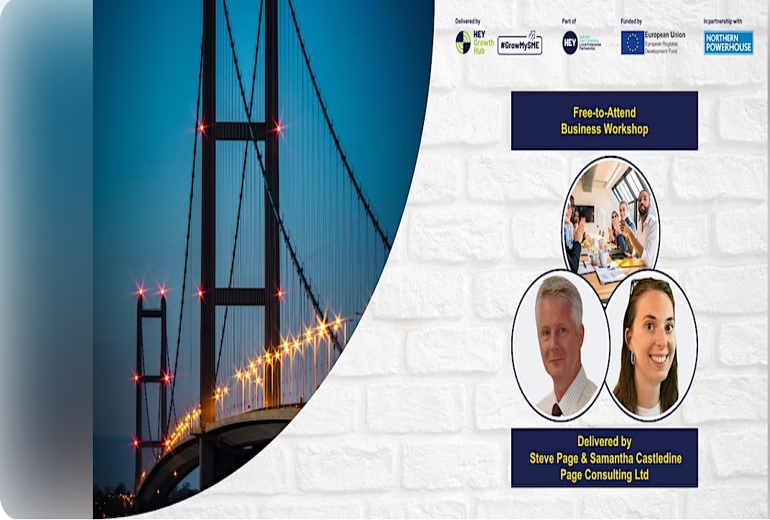 By HeyGrowthhub Growmysme
About this event
In this workshop you will learn why it is so important to continuously adapt your business and how you can do this effectively and easily.
If you want your business to thrive in 2023 and beyond, then this workshop is for you! Working with experienced business consultants, this half day workshop will give you some of the tools you need to guide your business through the current economic headwinds and come out stronger on the other side.
This 'stand-alone' workshop is also the first of a series of six half-day workshops that will help you to transform the performance of your business. You will take a step back with business experts to review your business and decide what it needs to enhance its performance and market standing at a time when your customer needs are rapidly evolving and changing.
This 4-hour workshop will explore the hidden art of business adaption to guide a business through rapidly changing markets and customer needs.
We will look at:
– the business evolution process
– business development pathways
– key components of a business
Who Should Attend?
This workshop is ideal for leaders and managers of small businesses. It will be particularly useful for businesses that have recently started to trade and those worried about the current economic climate and who want to take steps to make their business more resilient.
This Workshop will be Delivered by:
This workshop will be delivered by Steve Page and Sam Castledine (PAGE Consulting Ltd). These presenters jointly delivered the highly successful 'Business Start-up' programme in the region as well as individually many other regional business support initiatives.
Steve Page is a highly experienced and respected business consultant and coach who has been providing high calibre business training and coaching to business start-up's, Micro's and SME's over the last 20 years. Steve's background is in senior business management positions in global 'blue chip' corporations, he has a Master's Degree in Business (MBA) with distinction with numerous qualifications in business management and coaching / training.
Samantha Castledine brings an array of business experience and knowledge as a serial entrepreneur. Having created an award-winning company in her twenties, Sam specialises in helping entrepreneurs develop digital service based business. Sam has a proven track record in business administration and executing growth strategies.
On 11th October at
The Village Hotel
Henry Boot Way
Priory Park
Hull
HU4 7DY
On 12Th October at
Fenestra Conference Centre
24 High Street
Flixborough
DN15 8RL
There are 2 upcoming dates for this event.