Organiser: Hull and East Yorkshire Growth Hub
Event Type: Workshop
Description: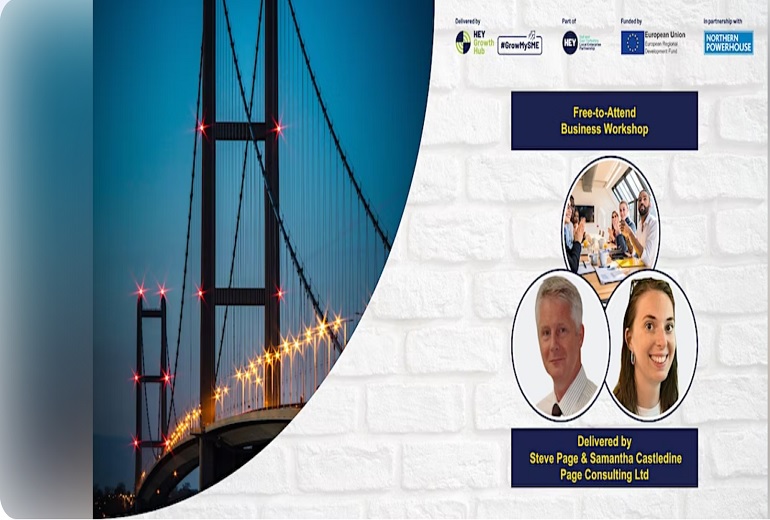 By HEY Growth Hub Grow my sme
About this event
In this workshop you will discover the art of process mapping and how to use this essential business diagnostic tool to understand what is really going on in your business and how to fix it.
If you want your business to thrive in 2023 and beyond, then this workshop is for you! Working with experienced business consultants, this half day workshop will give you some of the tools you need to guide your business through the current economic headwinds and come out stronger on the other side.
This 'stand-alone' workshop is also the second of a series of six half-day workshops that will help you to transform the performance of your business. You will take a step back with business experts to review your business and decide what is needed to enhance its performance and market standing at a time when your customer needs are rapidly evolving and changing.
This 4-hour workshop will teach you how to define your business activities in a simple yet highly effective way. This will enable you to easily identify the things that are holding your business back so that you can focus on dealing with them. The workshop will look at:
– the Art of Process Mapping
– How to Surface Improvement Opportunities
– Dealing with Information Flow
Who Should Attend?
This workshop is ideal for leaders and managers of small businesses. It will be particularly useful for businesses that have recently started to trade and those with aspirations to grow or who want to take steps to make their business more resilient.
Participants will gain process mapping skills and a deeper understanding of how businesses work and the impact that processes and systems can have on business performance as it evolves and changes.
This Workshop will be Delivered By:
This workshop will be delivered by Steve Page and Sam Castledine (PAGE Consulting Ltd). These presenters jointly delivered the highly successful 'Business Start-up' programme in the region as well as individually many other regional business support initiatives.
Steve Page is a highly experienced and respected business consultant and coach who has been providing high calibre business training and coaching to business start-up's, Micro's and SME's over the last 20 years. Steve's background is in senior business management positions in global 'blue chip' corporations, he has a Master's Degree in Business (MBA) with distinction with numerous qualifications in business management and coaching / training.
Samantha Castledine brings an array of business experience and knowledge as a serial entrepreneur. Having created an award-winning company in her twenties, Sam specialises in helping entrepreneurs develop digital service based business. Sam has a proven track record in business administration and executing growth strategies.
++++++
This workshop is fully-funded by the European Regional Development Fund (ERDF) and so your business does need to be registered and confirmed as eligible for our ERDF-funded Business Growth Scheme. Please check Your Event Eligibility process below.
Your Event Eligibility:
Business Growth Scheme workshops and webinars are fully-funded by ERDF and are therefore FREE to attend for SMEs who are fully registered with the #GrowMySME Programme.
An eligible SME is one that, at a minimum, must:
Have a trading address in the Humber area, which is; Hull, East Riding of Yorkshire, North Lincolnshire, North East Lincolnshire
Have less than 250 full time (or equivalent) employees
Have a turnover of less than €50m or a balance sheet of less than €43m
For businesses that are yet to register with the #GrowMySME Programme please contact us at bgs@heylep.com.
You will be contacted by a member of the team to fill in an online Registration Form, which collects contact information, and basic information about your business, which will determine your initial eligibility for the Programme.
Once eligibility has been determined, a member of the team will then be able to confirm your event booking. You will also be offered the opportunity to be contacted by your local #GrowMySME business advisor.
For businesses that are already registered with the #GrowMySME Programme, our team will be in touch to confirm your event booking.
NB – Please note:
your business only needs to be eligibility checked and registered once to access all parts of the #GrowMySME Programme up to June 2023
We can only accommodate one delegate per business at any individual workshop or masterclass in order to meet demand from the Humber SME community
There are 2 upcoming dates for this event.