Organiser: Hull and East Yorkshire Growth Hub
Event Type: Webinar
Description: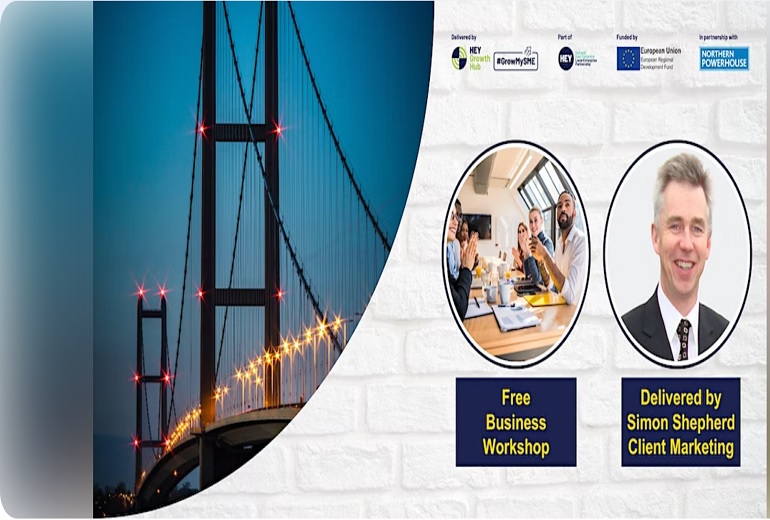 BY HEY GROWTH HUB GROW MY SME
We are on a mission to help as many people as we can to learn how to build stronger personal and professional brands, attract influential connections and create more profitable opportunities!
Completing this 1-hour Learn-at-Lunchtime webinar will help you:
• Gain a better understanding of LinkedIn and why you should use it
• How to make your personal and business profile stand out
• How to use LinkedIn as part of your social media strategy.
These fundamentals of LinkedIn webinar introduce you to the foundation skills of using this platform that all SMEs need to grow your business.
In only one-hour Simon Shepherd of Client Marketing will give you a guided tour through the endless possibilities that LinkedIn can generate for your business
++++++
This webinar is fully-funded by the European Regional Development Fund (ERDF) and so your business does need to be registered and confirmed as eligible for our ERDF-funded Business Growth Scheme. Please check Your Event Eligibility process below.
Your Event Eligibility:
Business Growth Scheme workshops and webinars are fully-funded by ERDF and are therefore FREE to attend for SMEs who are fully registered with the #GrowMySME Programme.
An eligible SME is one that, at a minimum, must:
Have a trading address in the Humber area, which is; Hull, East Riding of Yorkshire, North Lincolnshire, North East Lincolnshire
Have less than 250 full time (or equivalent) employees
Have a turnover of less than €50m or a balance sheet of less than €43m
For businesses that are yet to register with the #GrowMySME Programme please contact us at bgs@heylep.com.
You will be contacted by a member of the team to fill in an online Registration Form, which collects contact information, and basic information about your business, which will determine your initial eligibility for the Programme.
Once eligibility has been determined, a member of the team will then be able to confirm your event booking. You will also be offered the opportunity to be contacted by your local #GrowMySME business advisor.
For businesses that are already registered with the #GrowMySME Programme, our team will be in touch to confirm your event booking.
NB – Please note:
your business only needs to be eligibility checked and registered once to access all parts of the #GrowMySME Programme up to June 2023
We can only accommodate one delegate per business at any individual workshop or masterclass in order to meet demand from the Humber SME community
There are 0 upcoming dates for this event.