Organiser: Hull City Council
Event Type: Information Session
Description: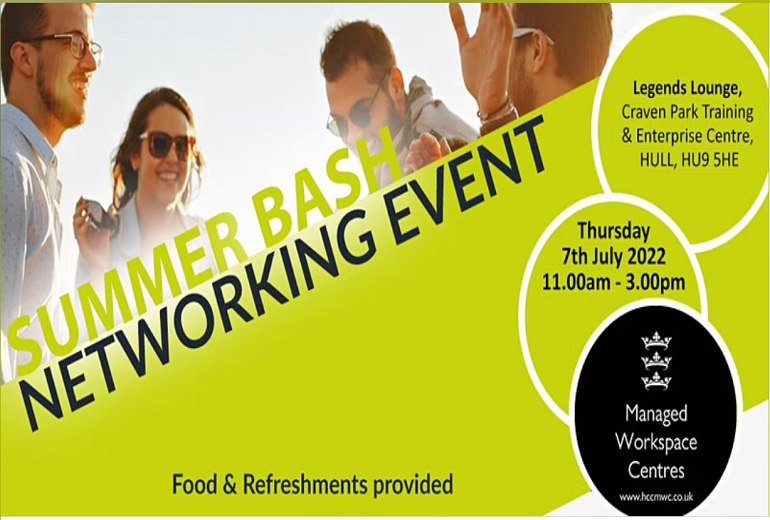 By by Hull City Council Managed Workspace Centres
At Legends Lounge,
Craven Park Training and Enterprise Centre
Preston Road
Kingston upon Hull
HU9 5HE

Managed Workspace Centres – social networking for businesses – Summer Bash Networking Event
About this event
Managed Workspace Centres – social networking for businesses – Summer Bash Networking Event
The 'Summer Bash' event brings together a collaboration of business owners located within Hull City Councils Managed Workspace Centres and businesses across the city and region. An opportunity for the community of start-ups, SMEs, and small business owners to make their brand known, build confidence and to help each other grow their businesses.
You are warmly welcomed and invited to come along and join our event to meet likeminded folk. With guest speakers, networking opportunities, summer style buffet, business raffle and even more! Come join us and hear about how Managed Workspace Centres could benefit your business.
ATTEND FOR FREE AND POP ALONG AT ANYTIME DURING THE EVENT
11.00am Meet and greet with refreshments
11.15am Opening and welcome by Allan Rookyard (Managed Workspace Centre Manager)
11.30am – 12.00pm Luke Morrow (Hull Libraries Business & IP Centre) An overview of the BIPC (Business & Intellectual Property Centre) provision, including information on Intellectual Property and bespoke databases for market research and company information. CLLD programme – 12 hours of business support available for individuals / businesses in certain areas of the city. Innovate Humber – ERDF project driving innovation, research and investment in research and development in the Humber region.
12.00pm – 12.45pm Networking and lunch
12.45pm – 1.15pm Jon Brunton (Growth Hub Manager) LEP/Growth Hub support services for businesses (#GrowMySME and Made Smarter) & Lewis Symonds (Growth Hub Business Advisor) non-LEP and Growth Hub support (council grants, support from BIPC/Hull Library)
1.15pm – 1.45pm Networking and refreshments
1.45pm – 2.15pm Phil Hall (Employment Inclusion) Introduction and overview to employment services and how this can benefit your business.
2.15pm – 2.45pm Networking,
2.45pm – 3.00pm raffle results
There are 1 upcoming dates for this event.