Event Type: Information Session
Description: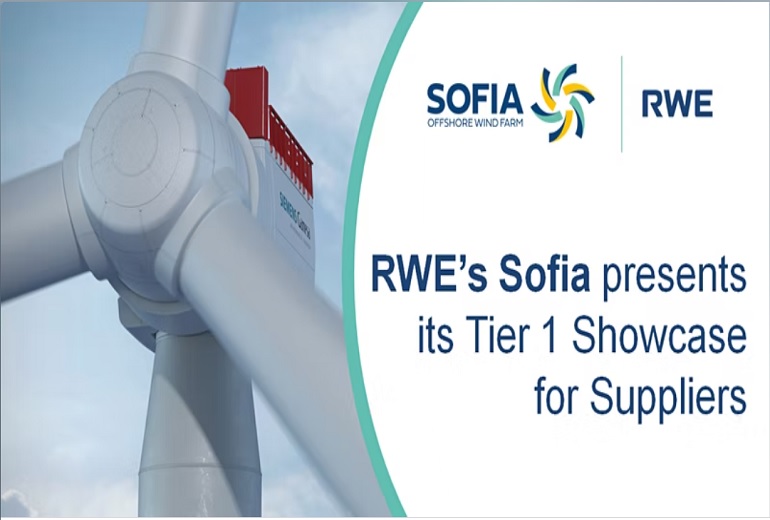 By NOF
AT DoubleTree by Hilton Hull
24 Ferensway
Hull
HU2 8NH
About this event
Sofia Offshore Wind Farm and its Tier 1 Contractors are committed to the development and growth of a competitive UK supply chain. To support this, they together launched a series of supply chain events to showcase contract opportunities during the construction of this flagship UK development. Three webinars (Episode I, II and III) have already been held and recordings can be viewed in the Supplier section of www.sofiawindfarm.com
This is an invitation for you to attend the fourth in the series, this time in a face-to-face event with turbine supplier, Siemens Gamesa Renewable Energy (SGRE) and their chosen vessel contractor Cadeler. This event will provide an overview of the renewable energy pioneer, introduce its newest turbine – the SG14 222 DD – and provide a high-level look at the packages that will be available on the Sofia project when SGRE's procurement process begins in 2023.
Siemens Gamesa Renewable Energy is a leading supplier of wind power solutions to customers all over the globe. In March 2021, the company was contracted to supply Sofia with 100 of its 14MW state-of-the-art turbines. Since then, it announced the expansion of its blade factory in Hull, cementing its place as the largest offshore wind manufacturing facility in the UK. Also announced has been the appointment of vessel supplier Cadeler to provide turbine transport and installation on Sofia. Full procurement for the Sofia project will begin in 2023 and will cover such areas as transport, vessels, lifting & logistics; civil works and on-site equipment; numerous goods and support services such as PPE and engineering, field and consultancy. This event will give a high-level overview of the business, and a summary of its scopes, timeframes and requirements for the Sofia project.
Programme
09.30 Arrival – tea / coffee
10.30 Welcome from NOF
10.35 Welcome and project update from Sofia (RWE)
10.45 Presentation by Siemens Gamesa Renewable Energy, turbine supplier
11.15 Presentation by Cadeler, turbine installation vessel contractor
11.30 Q&A session (close)
12.00 Light lunch (until 13.00)
SGRE and Cadeler requirements
Siemens Gamesa Renewable Energy will be looking for support on packages including:
Transport, vessels, lifting & logistics:
• Cranes, crawler cranes and self-propelled modular transporter
• Lifting equipment and tools
• Vessels: CTVs and SOV plus sea freight
• Helicopters
• Gas/fuel & offshore temporary power
• Port agents
• Logistics & parcel services
• Onshore and offshore containers
Construction and engineering services:
• Statutory inspectors (turbines, lifting equipment and PPE component inspections & certification)
• Personnel skilled in paint or steel repair
• HV technicians
Site-related:
• Quayside equipment
• Temporary site infrastructure – welfare/storage facilities, security
• Civil works & site machinery
• Seabed remedial works
Goods and support services:
• Accommodation – hotels and serviced apartments
• Engineering, field & consultancy services
• Portable drinking water
• Office supplies (stationery and IT)
• PPE
• Mechanical and electrical consumables
• Signage / branded merchandise
Cadeler will be looking for support on packages including:
Transport & logistics:
• Logistics & forwarding
Site-related:
• Warehousing facilities (bonded)
• Original spare parts agent(s)
Goods and support services:
• Welding / construction support
• Firefighting and life-saving apparatus / equipment
• Custom agent(s)
• Bunker trader(s)
Personnel:
• Rope access personnel (rigging and mechanical skills)
• Diving support (underwater inspections)
One-to-one meetings with SGRE and Cadeler
From 13.00, after the lunch session, one-to-one meetings will be arranged for potential suppliers, primarily Tier 2 or 3, with Siemens Gamesa Renewable Energy and Cadeler. SGRE and Cadeler will select who they would like to meet relevant to their future requirements. If you would like your company to be selected for a one-to-one meeting, you should ensure that the booking form above includes full details of the goods and services you can supply in line with those listed under 'SGRE and Cadeler requirements' above.
NOF will be in touch with you directly if you have been successful in receiving a one-to-one meeting.
If you are a supplier keen to increase your visibility with Sofia and its contractors, register for the project Sofia Supply Chain Portal HERE. You can also identify suppliers for your own contracting needs by using the portal's open search function. More than 1100 companies are now registered.
There are 0 upcoming dates for this event.