Event Type: Webinar
Description: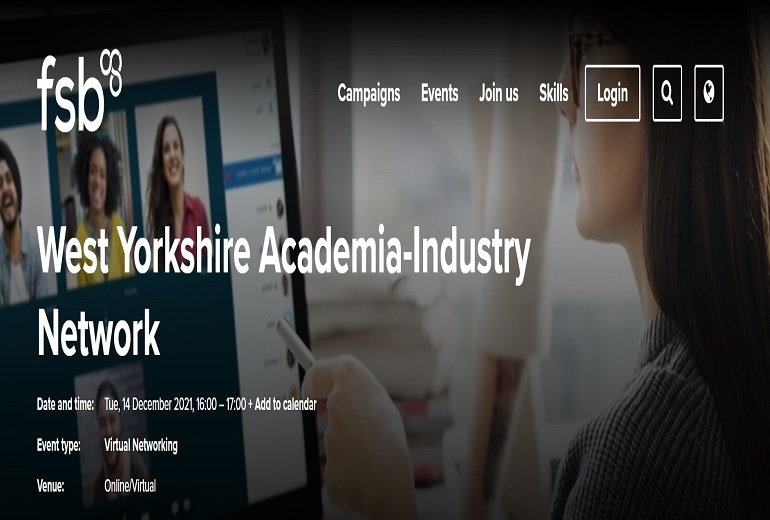 We all know that West Yorkshire has some great universities. What is less well known is that they are not just academic institutions but also offer a range of business support services. Universities want to help small businesses with research, innovation, training, funding and more.
Our aim is to help build mutually beneficial partnerships by connecting academics and universities with small business owners.
Join us for the next meeting of our FSB West Yorkshire Academia-Industry Network. This is part of a series of  regular monthly networking and learning events. Hosted by Leigh Eyles, this event will feature small business owner, Lucy Fernandes. Blessing Mukonoweshuro and Rakesh Suman will also be speaking on behalf of the University of Leeds.
Programme:
Brief introduction (5 mins)
Industry Presentation (10 mins)
Academic Presentation (10 mins)
Q&A Panel Discussion (10 mins)
Networking Sessions (2 x 7 mins)
Closing Words (5 mins)
Industry Presentation – Lucy is a qualified accountant trading as FAR Training and specialises in accountancy apprenticeships.  Her talk will highlight the benefits of apprenticeships for small businesses.
Academic Presentation – Blessing Mukonoweshuro and Rakesh Suman, KTP Innovation Development Officers,  will be speaking on behalf of the University of Leeds Knowledge Transfer Partnership (KTP) Office.  The team will explain how KTPs can support small businesses.
There will be the chance to raise the profile of your business and make valuable links with people from Universities across West Yorkshire and other business owners.
Event contact
Your Zoom joining link will be sent in your confirmation email so do not discard this. The link can also be found in the 'My Events' section on the FSB website. For help and support regarding this event, please telephone our dedicated events helpline 01253 336028 or email csdeventsupport@fsb.org.uk
This is one of many FSB events run across the UK, find out more here. Follow FSB West Yorkshire on Facebook for all our latest local events and updates and be sure to follow @FSBYHNE & @FSBWestYorks on Twitter for regular information to support your business.
There are 1 upcoming dates for this event.