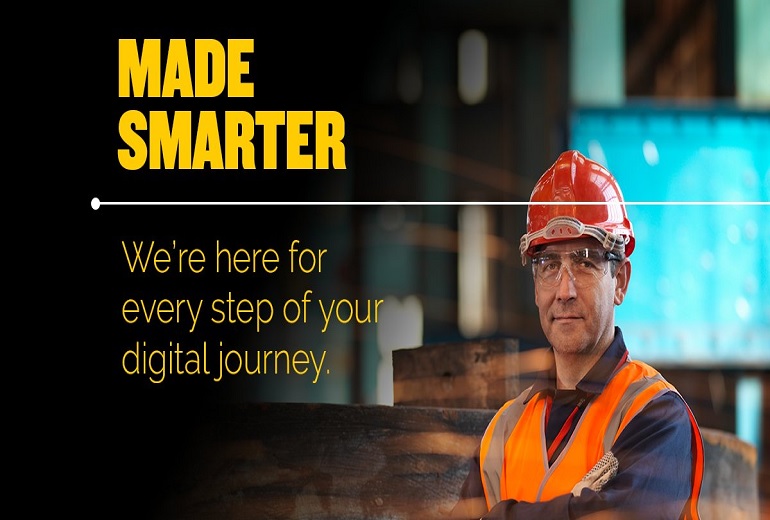 Background to Made Smarter Made Smarter is a national movement to drive growth amongst UK makers and advance the UK economy. Backed by world-renowned businesses and the UK government, it will improve the development and adoption of emerging technologies. Making a real, everyday difference to people from the boardroom to the factory floor. Made Smarter was formed following a nationwide review into UK manufacturing that recommended three key changes: More ambitious leadership. More innovation in developing new technologies. And faster implementation and adoption of those technologies. We'll be boosting the digital skills of industry leaders, bringing businesses and research development together to develop new technology, and helping makers embrace new digital tools. In doing so, we'll inspire the next industrial revolution and make the UK a leader in digital technologies. For more information, visit madesmarter.uk today.

Registration for support under the programme is via the web site www.madesmarter.uk.

How can Made Smarter help me.
If you spend most of your days trying to resolve reoccurring issues such as machine downtime, meeting customer demand, manual tasks causing delays and lack of the right data to support decisions – technology could be the solution. There are so many benefits that investment in technology can bring to your business. Reducing inefficiencies and cutting waste, increasing your sales growth and new market opportunities, overcoming capacity and resource issues, boosting your competitiveness, and increasing resilience, agility and innovation.
What support is available.
There is a range of support available including:
there are capex grants available, at an intervention rate of 50% and with a maximum grant value of £10,000 (i.e. a grant of up to £10k against a £20k project). Recipients must be an SME manufacturer with manufacturing premises located within the Yorkshire region, and the grant must be spent on the purchase of equipment which will digitise an aspect of their manufacturing process. Digitalisation activities in scope are fairly broad and more details can be provided upon request.
The grants will target manufacturers which have viable business plans, but where the grant is needed/adds value by filling a funding gap, accelerating an investment or makes an investment happen on a larger scale. The focus of the grant scheme is to support investment in industrial digitalisation which is linked to improvements in production and the creation of more skilled and higher paid jobs.
The grant sits as part of a wider package or Made Smarter support, which also includes:
Digital Road Mapping – advisory support to business on how to manufacture digitally in the future.
Intensive Digital Support – advisory support on selecting suppliers and partners.
Digital Internships – supporting the creation of placements for students who can bring digital skills to businesses.
Leadership & Management Training – training in digitisation for senior leaders within businesses.
Am I eligible? Made Smarter Adoption is open to small and medium-sized manufacturing and engineering businesses that have manufacturing premises in the North West, North East, West Midlands, and Yorkshire and Humber.
What are the technologies?
Made Smarter is supporting manufacturers with the adoption of Industrial Digital Technologies such as:
Additive Manufacturing
Data And Systems Integration
Robotics And Process Control Automation
The Industrial Internet Of Things (Sensors)
Artificial Intelligence And Cognitive Learning
Virtual, Augmented And Mixed Realities
Industrial Cybersecurity
Mobile Devices And Wearable Tech.
Find out more about the digital technologies.
Support available in the Humber
Learn more about the Made Smarter adoption support offer in Yorkshire and the Humber
The programme is delivered by South Yorkshire Mayoral Combined Authority in conjunction with West Yorkshire Combined Authority, York and North Yorkshire Growth Hub, Hull and East Yorkshire LEP
Benefits of Industry 4.0 adoption.
Emerging technologies can be initially quite daunting to implement so you need to ensure the benefits outweigh the resource and commitment required. As a leader you'll want to understand whether you should introduce digital tools and how you can benefit from them. Manufacturers are using technology to streamline their processes. They are faster, more responsive and more efficient. Ultimately, they make better products for less. You'll see boosted efficiency, increased productivity, improved quality, reduced costs. enhanced safety, an upskilled workforce, lowered emissions, accelerated growth. And so much more.
Interoperability
Interoperability allows manufacturing businesses, their systems and their machinery to share data and information quickly and accurately. This supports more informed decision-making that can result in greater production efficiency and heightened operational reliability.
Decentralisation
Decentralisation is the ability to design independent sub-processes with cyber-physical elements and make decisions autonomously. It is an exercise that simplifies the entire production process providing manufacturing leaders with greater oversight of the entire production chain.
Real-time data
Real-time data processing and analytics refers to the abilities of machinery and computers to continuously and automatically gather, process and analyse data to provide real-time insights so that processes can be effectively monitored, controlled, and optimised.
Virtualisation
Virtualisation is the process of producing "virtual" replicas of physical processes and models, creating a digital "copy" of a single production process or an entire warehouse by gathering sensor data from physical equipment and processes. A virtual replica enables manufacturing leaders to understand potential production blockages, manage operation expansion or reduce machine downtime.
Service orientation
Service orientation transfers additional value through new or enhanced services. It enables the data from manufacturing processes, cyber-physical systems, and humans to be made available to other processes and systems. This can lead to new, more efficient, and productive types of services being created.
Scalability Modular systems are naturally scalable, offering the benefit of being able to react to industry, customer demand, or organisation requirements without resulting in replacement or loss of initial investment.